Minimon
MiniMon can be used by any 16 Bit C16x Microcontroller System.
The front-end, which runs on Windows 95/98/Me, Windows NT and Windows 2000/XP, provides several functions:

* Hex editor functionality: load, save Intel Hex or binary files, modify, print
* Memory transfer functions: download, upload and compare any memory area
* Program, erase, (un)lock, (un)protect Flash/OTP/EEPROM areas
* View options: view memory as assembler code, 16 Bit or 32 Bit values
* Load and start user applications
* Call user subroutines
* SFR view: display and change SFR values, arranged in several register sets
* Terminal function: send and receive any data via RS232
* Scripting: A command can be selected either via menu or executed in scripts

The main advantages of Minimon is its compactness, its ability to locate free (without recompile/link) and its easy memory access functions. It works on a kind of "hardware" level and has (nearly) no access restrictions.

The front-end has a terminal view that shows all data received over the serial interface (e.g. debug outputs via printf).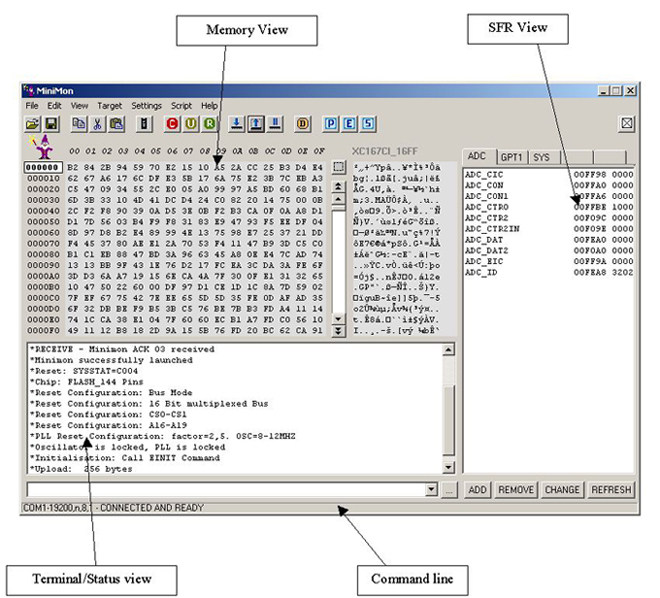 The main applications of MiniMon are hex editing, memory dumps, Flash/OTP programming, tests of micro controller peripherals and external hardware, downloading and starting of user applications.

But the best feature is: Minimon is completely FREE! Just download below.
| | |
| --- | --- |
| MINIMON 2.2.28 (recommended) | the latest version: C16x and XC16x support, advanced SFR-views, kernel administration, flexible hardware configuration, more settings, command selector for shell commands, clipboard functions and many more ... |
| MINIMON 2.1.19 (old) | the classical Minimon, C16x support only. |
| MINIMON User Manual | the documentation for the latest version |